THE MIX OF YASUTAKA WORKS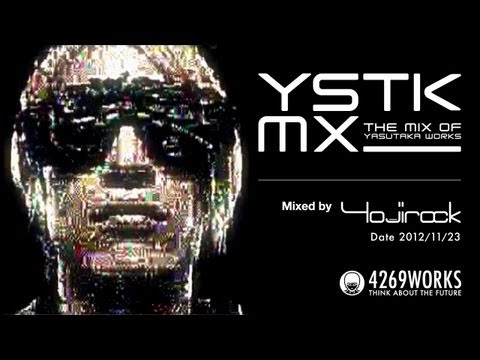 "YSTKMX" is an abbreviation of "Yasutaka (Nakata) Mix".
This mix is made up of all of his music include remix works.
You cannot watch this video on a mobile terminal by YouTube's copyright system.
Please go to the below URL to view on a mobile terminal.
『YSTKMX』は(中田)ヤスタカミックスの略です。
このミックスはリミックス作品を含むヤスタカさんの全ての音楽から構成されています。
尚、この動画はYouTubeからの視聴制限によりモバイル端末からはご視聴になれま­せん。
モバイル端末からのご視聴は下記リンク先をご覧ください。
 http://www.yojirock.com/works/ystkmx/
[Track List]
(0:00:00) 01. capsule rmx→ [capsule]
(0:00:19) 02. FLASH BACK (Extended-Live Mix) [capsule]
(0:01:18) 03. Take off [Perfume]
(0:02:31) 04. All The Way [capsule]
(0:04:01) 05. JUMPER [capsule]
(0:05:56) 06. EZ DO DANCE retracked by Yasutaka Nakata (capsule) [TRF]
(0:09:42) 07. Hurly Burly [Perfume]
(0:11:50) 08. Lotta Love -yasutaka nakata capsule mix- [m-flo loves MINMI]
(0:14:11) 09. CANDY CANDY [きゃりーぱみゅぱみゅ]
(0:16:35) 10. Sugarless Girl [capsule]
(0:18:15) 11. NAMAIKI (extended mix) [COLTEMONIKHA]
(0:21:51) 12. MAGIC [MEG]
(0:25:18) 13. PONPONPON extended [Kyary Pamyu Pamyu]
(0:27:37) 14. チョコレイト・ディスコ (2012-Mix) [Perfume]
(0:29:47) 15. WHAT IS LOVE [capsule]
(0:31:27) 16. Spending all my time [Perfume]
(0:33:29) 17. The best thing [Perfume]
(0:36:06) 18. SECRET ADVENTURE [MEG]
(0:38:07) 19. Sun Lights Stars (yasutaka nakata 8FM mix) [RAM RIDER]
(0:39:32) 20. 流星とバラード (Yasutaka Nakata remix) [東京スカパラダイスオーケストラ]
(0:43:08) 21. Are U Ready? (yasutaka nakata [capsule] Remix) [mini]
(0:44:48) 22. Meu Sonho (yasutaka nakata – capsule mix extended) [Kaleido]
(0:48:00) 23. 君に胸キュン。 (yasutaka nakata capsule remix) [土岐麻子]
(0:50:41) 24. edge (⊿-mix) [Perfume]
(0:54:36) 25. Step on The Floor [capsule]
(0:56:00) 26. Spring of Life [Perfume]
(0:58:36) 27. Beat in Love (Yasutaka Nakata [capsule] remix) [CLAZZIQUAI PROJECT]
(1:01:14) 28. FREE FREE [鈴木亜美 joins 中田ヤスタカ (capsule)]
(1:04:45) 29. more more more [capsule]
(1:05:28) 30. レーザービーム [Perfume]
(1:07:30) 31. Starry Sky [capsule]
(1:10:46) 32. ファッションモンスター [きゃりーぱみゅぱみゅ]
(1:13:56) 33. ちゃんちゃかちゃんちゃん [きゃりーぱみゅぱみゅ]